Discover Unparalleled Pre-Sale Car Detailing at Car Detailing Campbelltown
Get ready to discover the best in car detailing at Car Detailing Campbelltown. Our mobile car detailing services are not just your average car wash and detailing – we're here to give your vehicle a whole new level of care. Our team of experts is all about making your car look its absolute best and giving it the protection it deserves.
Enhance Your Selling Experience with Our Pre-Sale Car Detail
If you're gearing up to sell your car, our Pre-Sale Car Detail is tailor-made for you. This specialised service is designed exclusively for customers who are preparing to part ways with their vehicles. We understand that getting the best value for your car is crucial, and that's where our Pre-Sale Detail comes in.
When you opt for our Pre-Sale Detail, you have the choice between two exceptional packages: the Standard and Gold detailing packages. On top of that, both packages come with the added advantage of an engine bay detail. This comprehensive attention to detail ensures that your car not only looks fantastic on the surface but also under the hood.
hether you're aiming to sell or trade-in your car, our Pre-Sale Car Detail is the ultimate package to present your vehicle in its best light. Don't settle for anything less than the best when it comes to showcasing your car's value. Choose our Pre-Sale Detail and let your car shine, giving potential buyers a glimpse of its true potential.
Pre-Sale Car Detail - From $240
Our standard car detail is the perfect blend of the essentials plus additional extras like tyre dressing, cloth dry, hydrophobic seal and an UV protectant seal to ensure our high standard of detailing is achieved for an affordable price.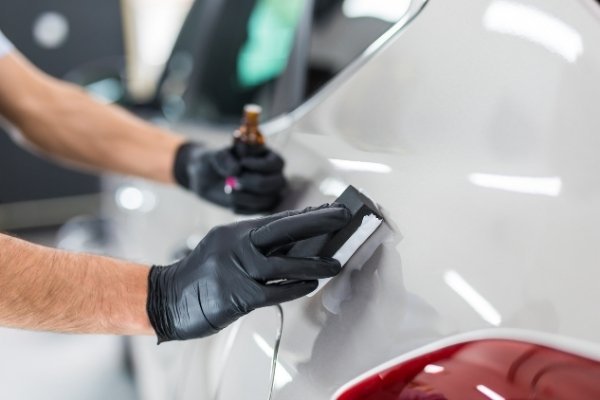 Unlock the Advantages of a Pre-Sale Car Detail
Experience the ultimate fusion of essential services and added luxuries with our standard car detail. Alongside the basics, we include bonus features such as tire dressing, thorough cloth drying, a hydrophobic seal, and a UV protectant seal. All these elements combine seamlessly to guarantee that our superior standard of detailing is delivered, all while keeping the cost remarkably affordable.
Step into the realm of luxury with our Gold Car Detail, the pinnacle of our car detailing services. This comprehensive package encompasses a thorough cleansing of both the interior and exterior of your vehicle, coupled with meticulous paint decontamination and clay bar treatment. Tailor-made for those who seek a car detail that encompasses every conceivable extra, our Gold Car Detail is the ultimate choice.
Experience the transformative effects of paint correction as it revitalises your car's paintwork by erasing light scratches and imperfections. This process not only restores a vibrant shine to your vehicle's surface but also eliminates blemishes, swirl marks, and oxidation. By enhancing gloss and colour depth, paint correction adds significant value before a sale and unveils a renewed finish, particularly valuable for used cars.
Experience the transformative benefits of ceramic coating – a robust protective layer that bonds seamlessly to your car's paint, guarding it against UV damage, bird droppings, bugs, and contaminants while enhancing the vehicle's appearance with a smoother, glossier finish. This transparent shield not only simplifies cleaning by repelling dirt but also offers a high-quality paint protection solution suitable for both new and used cars, acting as an additional clear coat with remarkable preserving and self-cleaning properties, making it a top choice for maintaining and enhancing your vehicle's value and aesthetics.
Why Choose Car Detailing Campbelltown for Your Vehicle's Care?
Pre-Sale Car Detail Campbelltown
Frequently Asked Questions
Pre-sale car detailing is a specialised service designed to prepare your vehicle for sale. It involves thorough cleaning, restoration, and protection of your car's interior and exterior, aiming to enhance its overall appearance and value before putting it on the market.
Investing in pre-sale car detailing can significantly increase your vehicle's appeal to potential buyers. It removes imperfections, enhances the paintwork, and revitalises the interior, making your car more attractive and potentially leading to a quicker sale at a better price.
Absolutely. Pre-sale car detailing is beneficial for both new and used cars. For new cars, it helps maintain their showroom shine, while for used cars, it can restore the appearance and address wear and tear, making them more appealing to potential buyers.
Don't wait any longer to provide your car with the attention it rightfully deserves.
Contact Car Detailing Campbelltown – Ceramic Coatings & Paint Protection today to schedule an appointment or inquire about our offerings. Our expert team is enthusiastic about restoring your vehicle's radiance and exceeding your expectations with our exceptional car detailing solutions. Allow us to reveal the genuine splendour of your car!
Get in Touch With Us Today
Get A Free Car Detailing Campbelltown Quote Today!
Please fill out the form below, and one of our car detailing professionals will be in touch with you shortly!