Experience the Ultimate Car Detailing at Car Detailing Campbelltown
At Car Detailing Campbelltown, we take immense pride in providing mobile car detailing services that exceed the standard car wash and detailing. Our highly skilled team is dedicated to elevating your vehicle's appearance and protecting it with utmost care. With expertise in the art of car detailing, we ensure your vehicle's overall appearance regains its original brilliance. Combining our unwavering commitment to perfection and cutting-edge technology, we offer unmatched detailing services, preserving your car's stunning look for years to come. Trust us to enhance your car's aesthetics and safeguard its beauty with the utmost precision and care.
What Does Our Standard Car Detail Involve?
Our standard car detail is a starter package that includes all the essentials and some extra touches to ensure an exceptional detailing experience at an affordable price. The exterior receives a foam pre-wash and rinse, followed by a two-bucket hand wash and hydrophobic sealant application. Wheels are deionized, degreased, cleaned, and dressed with a low-gloss tyre shine. The car is then blow-dried and hand-dried with a premium microfiber cloth. Inside, we thoroughly vacuum seats, carpets, and the boot, shampoo or pressure wash floor mats, and clean all surfaces, adding UV protection for added care. Additionally, we remove dirt and grit between panels to leave no detail overlooked. Trust our skilled technicians to deliver the high standard of detailing you deserve for your vehicle.
Standard Full Car Detail - From $180
Our standard car detail is the perfect blend of the essentials plus additional extras like tyre dressing, cloth dry, hydrophobic seal and an UV protectant seal to ensure our high standard of detailing is achieved for an affordable price.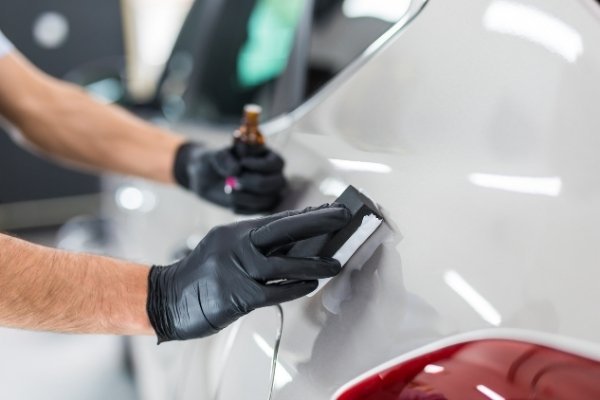 Key Benefits of Paint Correction
This all-inclusive package entails a meticulous purification of both your vehicle's interior and exterior, paired with a precise paint decontamination process and clay bar treatment. Crafted for individuals in pursuit of a car detailing experience enriched with every imaginable enhancement, our Gold Car Detail stands as the unparalleled selection.
Our pre-sale car detail service is expertly tailored for customers navigating the journey of selling their vehicles. Explore the choices between our thoughtfully curated Standard or Gold detailing packages, each aimed at addressing your unique requirements. But there's more – both options include the added advantage of an engine bay detail. If your goal is to maximize the value of your car sale or trade-in, our pre-sale car detail emerges as the perfect solution.
Witness the remarkable impact of paint correction as it breathes new life into your car's paintwork, erasing minor scratches and imperfections. This procedure not only reinstates a vivid shine to your vehicle's exterior but also eradicates blemishes, swirl marks, and oxidation. Elevating gloss and colour depth, paint correction substantially boosts your car's value before a sale and reveals a rejuvenated finish, particularly beneficial for used cars.
Discover the game-changing advantages of ceramic coating – a resilient shield that forms a seamless bond with your car's paint, providing defence against UV damage, bird droppings, insects, and pollutants. Simultaneously, it elevates the vehicle's look with a sleeker, glossier finish. This transparent armour doesn't just simplify cleaning by repelling dirt; it also serves as a premium paint protection solution suitable for both new and used cars. Operating as an extra clear coat, it boasts outstanding preserving and self-cleaning qualities, positioning it as the ultimate option for elevating and safeguarding your vehicle's allure and value.
Why Car Detailing Campbelltown is the Best Choice
Standard Car Detail Campbelltown
Frequently Asked Questions
Give your car the care it truly deserves without delay.
Get in touch with Car Detailing Campbelltown – Ceramic Coatings & Paint Protection today to book an appointment or inquire about our services. Our skilled team is eager to bring back the brilliance of your vehicle and surpass your expectations with our top-notch car detailing solutions. Let us unleash the true beauty of your car!
Get in Touch With Us Today
Get A Free Car Detailing Campbelltown Quote Today!
Please fill out the form below, and one of our car detailing professionals will be in touch with you shortly!