Ceramic Coating Campbelltown
Ceramic Coating Campbelltown
The ultimate protection for long lasting gloss.
Ceramic coating paint protection is a type of automotive paint protection that coats the surface of a car with a ceramic film. This film helps to protect the car from scratches, chips, and other forms of damage.
A ceramic coatings will make your car look shiny and new.
They work by creating a protective barrier on the surface of your car's paint that helps keep it looking clean and glossy.
The benefits of ceramic coating Campbelltown are numerous. Not only does it protect your car's paint job from the elements, but it also keeps your car looking new for longer. A ceramic coating can also help to reduce the amount of dirt and dust that accumulates on your car, making it easier to clean. Applying a car coating is an investment in your vehicle. This is why it is important to ensure that the coating you are applying is high quality and will last for many years.
Ceramic Coating Paint Protection - From $700
Ceramic coating is a paint protection option that is applied as a layer-able, clear, liquid nano-coating. The ceramic coating bonds with the paint on your car to form a hard shell that can protect your vehicle from environmental hazards like bird droppings, bugs, and weathering. Ceramic coating paint protection can also be applied to the entire car, not just the surface paint. Ceramic coatings can last for many years and offer a much higher level of protection than traditional waxes or sealants.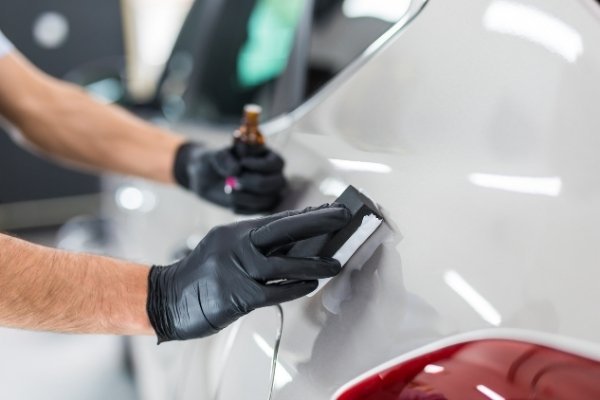 Paint Protection Campbelltown
No matter how new or old your car is, protecting the paint is crucial. A ceramic coating is one way to ensure that your vehicle gets the best possible protection. Ceramic coating is known globally as the leading paint protection technology. It can be easy to get lost in technical jargon with so many different protective options, but this option has proven itself time and again, and if you have seen a vehicle with a ceramic coating on it, you know how great it looks.
Why Choose Ceramic Coating For Your Paint Protection?
Ceramic coating paint protection is the world-leading technology to keep vehicles looking newer for longer. A nano-ceramic coating is applied to the paint and creates a permanent bond. The coating creates a high gloss finish that resists scratches, swirls, and fading. It also protects the paint from the elements, including UV rays, dirt, and salt.
Ceramic Coating Campbelltown
Frequently Asked Questions
We offer the most advanced vehicle paint protection in Campbelltown. Ceramic Coatings chemically bond to your vehicle's paint to produce an additional layer of protection that enhances the gloss of your vehicle's bodywork.
Why Use Ceramic Coating Campbelltown For Your Vehicles Paint Protection?
Take a look at our most popular mobile car detailing Campbelltown services
Don't See The Mobile Car Detailing Campbelltown Service You're After?
We can customise a solution for you. 
Our detailing team is among the best you will find in NSW, having worked for many years in the car detailing industry. We have acquired the knowledge and skills that set us apart from our competition. Call us today or fill out our quote request form. Our friendly technicians will gladly answer any questions you have.
Get in Touch With Us Today
Get A Free Car Detailing Campbelltown Quote Today!
Please fill out the form below, and one of our car detailing professionals will be in touch with you shortly!