Enhance Your Car's Look with Our Premium Detailing Services
Welcome to Car Detailing Campbelltown, where we take immense pride in delivering exceptional automotive services that go above and beyond ordinary car wash and detailing. Our team of highly skilled professionals is committed to elevating the appearance and safeguarding your vehicle. As experts in the field, we specialise in meticulous paint correction, ensuring your car's paintwork is restored to its original brilliance. Through our unwavering dedication to perfection and the use of cutting-edge technology, we provide unparalleled paint protection services, preserving your vehicle's stunning appearance for years to come. Trust us to enhance your car's aesthetics and protect its beauty with utmost care.
What Does Paint Correction Involve?
At Car Detailing Campbelltown, our paint correction process is an intricate and advanced technique aimed at restoring the flawless appearance of your vehicle's paint. Our goal is not only to bring it back to its original state but also to surpass its factory-like condition. Over time, your car's paint can accumulate imperfections like swirl marks, scratches, water spots, oxidation, and other blemishes due to various environmental and human factors.
We recognise that your vehicle is not just a mode of transportation; it is an investment and a source of pride. With our paint correction service, we go the extra mile by utilising cutting-edge techniques, employing high-quality products, and entrusting skilled technicians to delicately eliminate these imperfections. The result is a stunning, showroom-worthy shine that will make you fall in love with your car all over again.
Paint Correction - From $700
Paint correction is a highly effective method for revitalising your car's paint and eliminating minor scratches and surface imperfections. As paint ages, it may lose its lustre and clarity, but through paint correction, blemishes, swirl marks, and oxidation can be expertly removed from the surface, restoring your car's paint to its former glory. Moreover, this process can enhance the overall gloss and depth of the paint's colour.
Opting for a paint correction service is an excellent way to increase the value of your vehicle if you're planning to sell it. For those with used cars, it offers the opportunity to revive the finish and enjoy a renewed appearance that may have seemed unattainable. Trusting in paint correction will leave your car looking impeccable and appealing, whether you plan to sell it or simply desire to experience a fresh, flawless finish.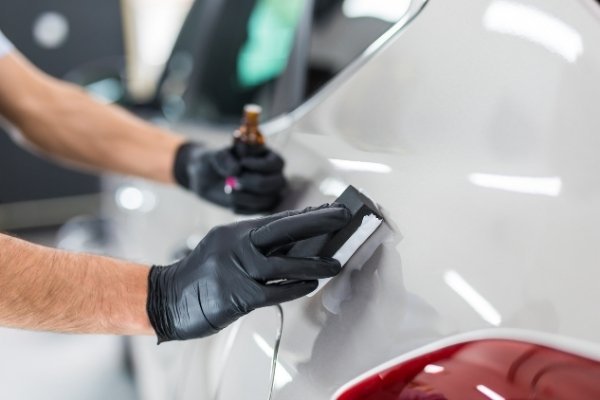 Key Benefits of Paint Correction
Experience the ultimate fusion of essential services and added luxuries with our standard car detail. Alongside the basics, we include bonus features such as tire dressing, thorough cloth drying, a hydrophobic seal, and a UV protectant seal. All these elements combine seamlessly to guarantee that our superior standard of detailing is delivered, all while keeping the cost remarkably affordable.
Step into the realm of luxury with our Gold Car Detail, the pinnacle of our car detailing services. This comprehensive package encompasses a thorough cleansing of both the interior and exterior of your vehicle, coupled with meticulous paint decontamination and clay bar treatment. Tailor-made for those who seek a car detail that encompasses every conceivable extra, our Gold Car Detail is the ultimate choice.
Introducing our exclusive pre-sale car detail service, crafted specifically for customers in the process of selling their vehicles. Delve into the options of our Standard or Gold detailing packages, each meticulously designed to cater to your needs. And that's not all – both packages come with the added bonus of an engine bay detail. If you're aiming to secure the highest value for your car sale or trade-in, our pre-sale car detail is the ideal solution.
Experience the transformative benefits of ceramic coating – a robust protective layer that bonds seamlessly to your car's paint, guarding it against UV damage, bird droppings, bugs, and contaminants while enhancing the vehicle's appearance with a smoother, glossier finish. This transparent shield not only simplifies cleaning by repelling dirt but also offers a high-quality paint protection solution suitable for both new and used cars, acting as an additional clear coat with remarkable preserving and self-cleaning properties, making it a top choice for maintaining and enhancing your vehicle's value and aesthetics.
Why Car Detailing Campbelltown is the Best Choice
Paint Correction Campbelltown
Frequently Asked Questions
Give your car the care it truly deserves without delay.
Get in touch with Car Detailing Campbelltown – Ceramic Coatings & Paint Protection today to book an appointment or inquire about our services. Our skilled team is eager to bring back the brilliance of your vehicle and surpass your expectations with our top-notch car detailing solutions. Let us unleash the true beauty of your car!
Get in Touch With Us Today
Get A Free Car Detailing Campbelltown Quote Today!
Please fill out the form below, and one of our car detailing professionals will be in touch with you shortly!