Experience Extraordinary Car Detailing with Car Detailing Campbelltown
Prepare to uncover the epitome of car detailing excellence at Car Detailing Campbelltown. Brace yourself for an exceptional journey beyond traditional car wash and detailing services – we're dedicated to elevating the care your vehicle receives. Our team of professionals is wholly committed to ensuring your car attains its utmost visual brilliance and receives the protection it's entitled to.
Experience Luxury with Our Gold Car Detail
Elevate your car detailing experience with our Gold Car Detail, the pinnacle of premium service. This comprehensive package entails a thorough cleansing of both the interior and exterior, complemented by paint decontamination and a meticulous clay bar treatment. Ideal for enthusiasts seeking an all-inclusive car detailing solution, our Gold Car Detail delivers the ultimate package of extras.
Gold Car Detail - From $300
Our Gold Car Detail is our premium car detailing service. The package includes a deep clean of the inside and outside of the vehicle and paint decontamination/clay bar. This is the perfect package for those looking for a car detail with all of the extras included.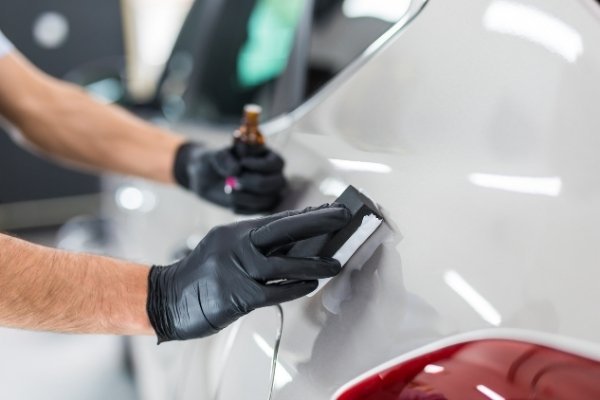 Unlock the Advantages of our Gold Car Detail
Discover the perfect blend of essential services and extra indulgences in our standard car detail. In addition to the fundamentals, we offer bonus enhancements like tire dressing, meticulous cloth drying, a hydrophobic seal, and a UV protectant seal. These components come together seamlessly to ensure the delivery of our exceptional detailing standard, all while maintaining an impressively affordable cost.
Presenting our specialised pre-sale car detail service, exclusively designed for customers navigating the sale of their vehicles. Explore our meticulously crafted Standard or Gold detailing packages, tailored to address your unique requirements. And there's more – both packages include an extra perk: an engine bay detail. If your goal is to maximise your car's value during sale or trade-in, our pre-sale car detail stands as the perfect solution.
Immerse yourself in the remarkable results of paint correction, reinvigorating your car's paintwork by effectively eliminating minor scratches and imperfections. This procedure not only reinstates a lively shine to your vehicle's exterior but also eradicates blemishes, swirl marks, and oxidation. With an elevated gloss and enhanced colour depth, paint correction introduces substantial value before a sale and reveals a renewed finish, an especially advantageous aspect for used cars.
Discover the remarkable advantages of ceramic coating – a strong, protective layer that forms a seamless bond with your car's paint, shielding it against UV damage, bird droppings, insects, and pollutants. Simultaneously, it elevates your vehicle's look with a sleeker, glossier finish. This transparent shield not only simplifies cleaning by repelling dirt but also provides a high-quality paint protection solution suitable for both new and used cars. Acting as an extra clear coat, it boasts impressive preservative and self-cleaning properties, positioning it as the ultimate option for safeguarding and enhancing your vehicle's worth and aesthetics.
Why Choose Car Detailing Campbelltown for Your Vehicle's Care?
Gold Car Detail Campbelltown
Frequently Asked Questions
Don't delay giving your car the care it truly deserves any longer.
Reach out to Car Detailing Campbelltown – Ceramic Coatings & Paint Protection today to book an appointment or learn more about our services. Our skilled team is eager to restore your vehicle's brilliance, surpass your expectations, and unveil the genuine splendor of your car.
Get in Touch With Us Today
Get A Free Car Detailing Campbelltown Quote Today!
Please fill out the form below, and one of our car detailing professionals will be in touch with you shortly!